Posted by garymcuesta on April 6, 2011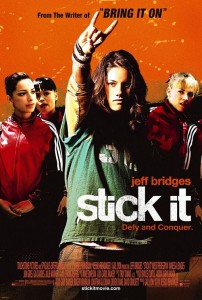 http://www.youtube.com/watch?v=3wroZE_4uuk&feature=related
Is there anything more endearing than a Cinderella story?
It seems most sports films have this plot. Athlete can't perform. Athlete's friends and family rally around them. Athlete trains harder than they ever have. Athlete wins title. The ratings for these films should be "This film has been approved for tears and tissues."
Stick It is no different in over all story progression were at times it lacks true depth in the redemption of its main character. But for what it lacks in this, it makes up for with it's somewhat, and I stress somewhat, actuate portrayal of what it takes to be a senior elite female gymnast.
The story focuses around Haley Graham (Missy Peregrym), a former U.S national champion who literally walks of the floor at worlds with gold guaranteed for team U.S.A. This is all we know to this point about why she did so. Many think she just choked, which causes the gymnastics world to hate her with a passion. As Haley puts it, "When you walk out at worlds and lose team U.S.A some team gold, it's not personal. It's national."
After a run in with the law, Haley is court ordered to serve time at VGA. The Vickerman Gymnastics Academy, run by former Olympic gymnast Burt Vickerman (Jeff Bridges).
Stubborn at first, and emotionally drained because she found out her mother was having an affair with her personal coach before going on floor on worlds, she finds her way back to her love for the sport.
But what is a good sports movie without an angle? At the U.S National Championships, the gymnasts decide to take the results of judging into their hands by scratching and choosing the winner on each apprentice.
Is it realistic? No. Is it the stuff dreams are made of? Absolutely.
As great as the gymnastics in the movie is, it still leave something to be desired from true gymnastics fans. Disturbing nationals would never be tolerated. And no gymnast who has taken close to a year off from the sport could be prepared for competition in a couple of months. Not to mention Haley trained herself with very little assistance from Vickerman.
There is a scene that is realistic and is truly what the film should be all about.
While just starting to train again, Haley states, "Gymnastics tells you no. All day long. It mocks you over and over again. Telling you you're an idiot. That you're crazy".
Gymnastics is only glamorous on television. Behind the scenes, it is a physical and emotional battle. Training is full of blood, sweat and tears. Literally. It's not cute. It's not pretty. It's war with one's self.
Over all, it is great to finally see a feature film that focuses on gymnastics. It is easy to mock this sport, and this is something the film does not do. It gives a face to an almost forgotten sport in a world of football and baseball. And although not perfect in form, it still sticks it.
Posted in Uncategorized | Tagged: Jeff Bridges, Missy Peregrym, Stick It | 1 Comment »